Create an instant lobby bar and boost your profitability overnight.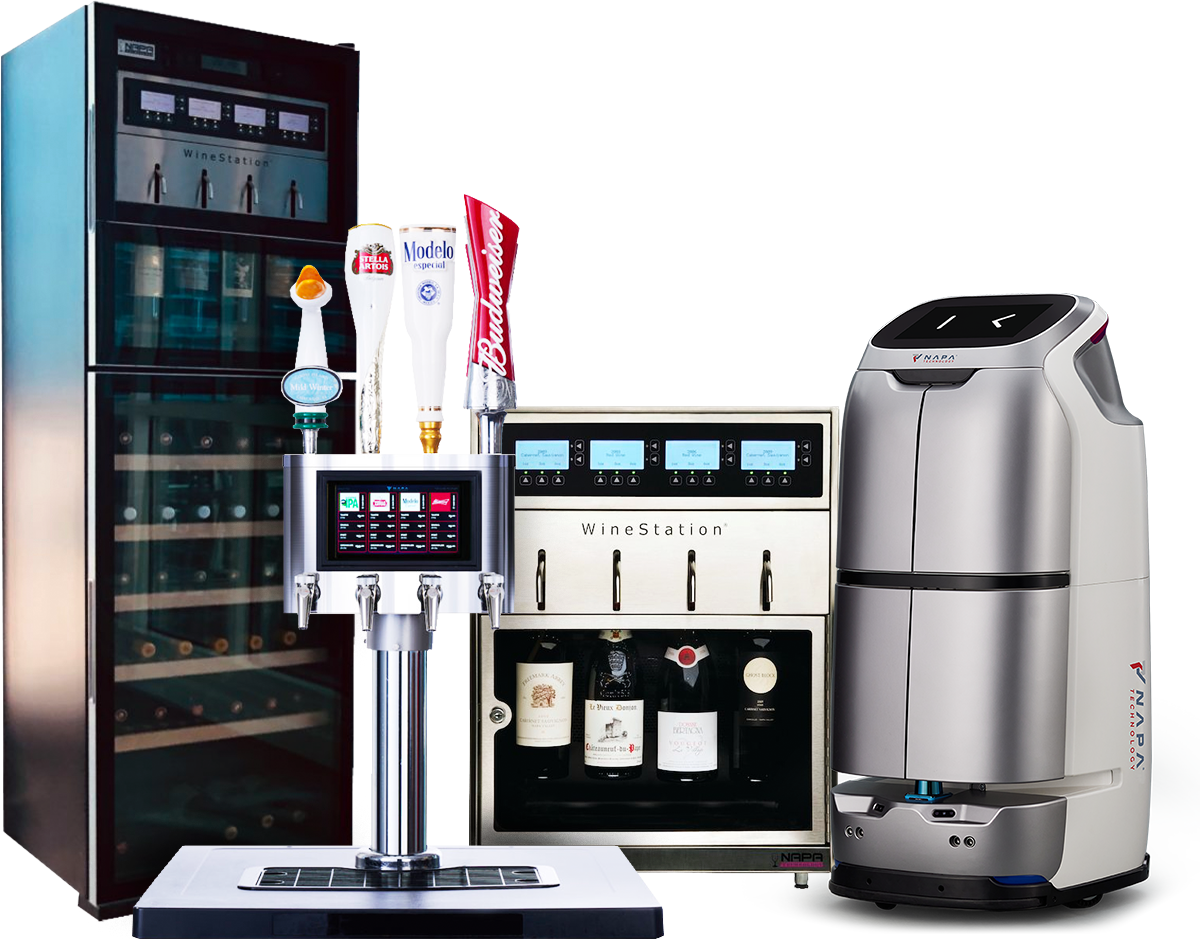 Create A New Hotel Bar or Turn Your Current Hotel bar Into A Super Efficient Profit Center
Impress Your Guests With Our Sleek Beverage Dispensing Systems & Hard-Working ServBots
Revamp your hotel's beverage program, trim your payroll, eliminate product loss, theft and spoilage and usher in a new guest experience that will boost your bottom line.
Fill this out to download our Product Catalog and get an email with more info!
Easily Create New Profit Streams Using Your RFID Hotel Room Keys And Save On Staffing With Our ServBots
Boost Profitability Overnight, Tap Into Our Self-Serve Beverage Concept And Let Sales Get Billed To The Guest Folio
Here's How & Where it Works
Our Beverage Dispensing Systems Not Only Function But Thrive In A Variety Of Venues Within Your Hotel
Make Sure To Implement Our Room Key Integration Technology To Take Advantage Of All The Self-Service Scenarios Outlined Below
Reception
Treat your VIP guests to a welcome drink when they check in. Your standard guests will ask about the dispenser pouring fine wine and want to "join the club".
Restaurant
Take the staff out of the mix. Let your guests pick exactly what they want to drink with dinner at their leisure.
Lounge
Create an additional selling point for your Club Lounge with our system. Long flights and long meetings call for quality drinks whether the Lounge is open or not.
In-Room
Your guests use their room key to enter their hotel room; why not let them use it to help themselves to a glass of wine in the comfort and privacy of their room? And say adios to the outdated and unreliable mini-bar.
Pool Area
Just leave a sleeve of plastic cups and guests can serve themselves margaritas, beer, wine, etc. Also, mobile kegerators (TapStations) for banquet rooms, rooftop bars and more.
An Array of Beverage Service Solutions For Your Property
WineStation Sommelier Edition, WineStation Quartet & WineStation Cellar
SpiritStation & BourbonStation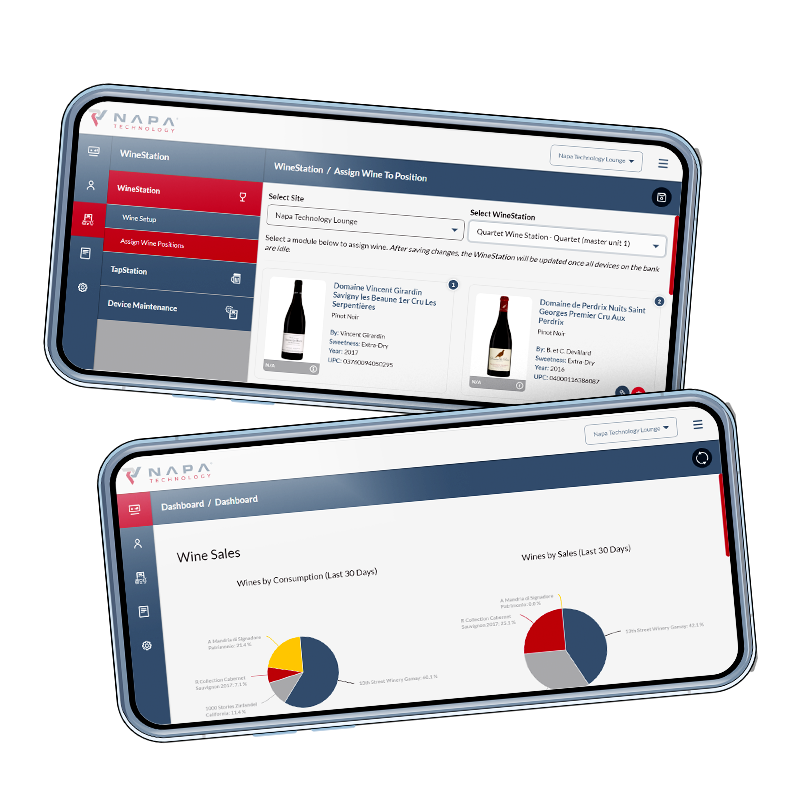 A Single Cloud-Based CRM System & Reporting Database
The dispensers are nice, but that's only one part of our beverage system. Every single unit is integrated with our custom cloud-based software portal. It tracks every pour, logs every guest transaction and generates any real-time report you need to optimize your beverage program. The front-end is a user-friendly POS interface that puts you in complete control: manage inventory, adjust pricing and create digital menus all in one place.
Our System Fully Integrates With What is Already In Place
POS & Room Key Integrations Are Seamless
 Omnivore
 Micros
 Focus
 And More
HOTEL ROOM KEY INTEGRATIONS
Every Napa Technology system is personalized to meet your specific needs. On average, our systems can break-even in as fast as 9-12 months if just two (2) drinks are served from them daily. We want to make it clear that there are numerous factors that comprise the cost of a system including quantity of units purchased, software plans, additional integrations, installation type, venue dimensions among others. Reach out to a program consultant today for a custom quote that will break down each part of your system's cost structure in detail. 
Adding Napa Technology's systems to your program is easy! Just send us as much information on the program that you want to build and a program consultant will follow up with you with a customized quote that includes costs, timeline and financing options. The plan should be back to you within 48 hours.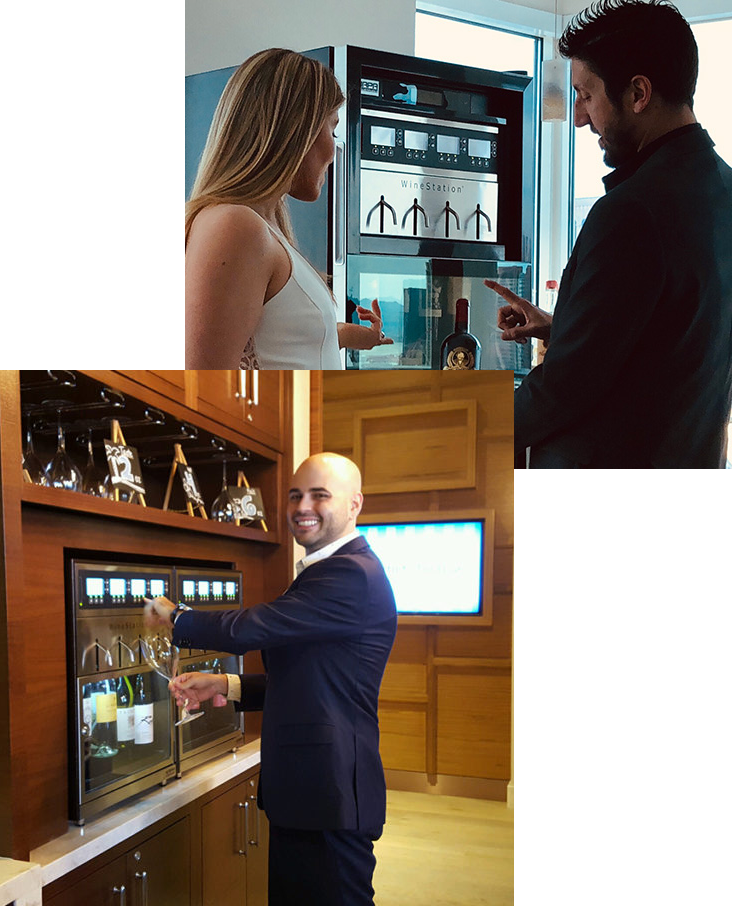 Our Beverage Systems Are Trusted By Many In The Hospitality Industry